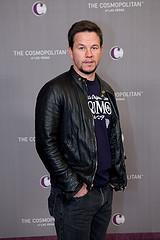 Ingrown toenails are a common foot condition, and they can happen to anyone—even film stars.  Prior to his recent appearance on "The Ellen DeGeneres Show," actor and producer Mark Wahlberg had part of his toenail removed.    The actor stated that he had suffered from an ingrown toenail, "The thing was just growing the wrong way."  After removing his shoe and sock, Wahlberg showed a curious Ellen his bandaged toe, and explained that a foot specialist had removed the nail.  
Symptoms of an ingrown toenail include pain, redness, and swelling around the nail and the skin that surrounds it.  Sometimes an infection develops, and the area may produce drainage that could include pus and even blood.   If you suspect an infection, or you're experiencing a lot of pain, you should call your chiropodist right away.  For people with special health concerns, such as diabetes, an appointment should be made at the first sign of any irritation to the foot.
Had Mark Wahlberg addressed his ingrown toenail earlier, he might have been able to treat the issue at home.  A warm foot soak may be enough to soften the skin around the nail, so that you can lift the nail away from the skin.   An antibiotic cream can be applied as well. 
 Prevention is the best way to avoid this common foot condition altogether.  Cutting your nails straight across and wearing shoes with sufficient space for your toes will reduce your risk.
If pain, swelling, and redness persist, visit Chiropodist Brian Cragg for effective treatment of your ingrown toenail.  Possible remedies include:  antibiotics, removal of a small part of the nail that is impacting the skin, or a partial toenail removal.  Although these procedures sound serious, they are performed in the office with a local anesthesia.  There are no incisions or stitches, and the nail will have a normal appearance once the wound has healed. 
At Markham Foot Care Clinic, your feet are the stars.  Chiropodist Brian Cragg understands the importance of good foot health, and looks forward to serving you.  Call our Markham, ON office today to schedule an appointment.  You can reach us at (905) 294-8087, or set an appointment at our website.  
photo credit: The Cosmopolitan of Las Vegas via photopin cc